Installation view in the exhibition "ost.west NAHT"
Hinterconti Hamburg, May 2022
Photo: Vera Drebusch
2022
Installation + Performance
2 full body suits, cotton different colors, sewn
1.5m x 2m
Vera Drebusch and Anne Reiter wear self-sewn jogging suits in different colors during their performance. Each individual color visualizes an answer to the survey, what does the west or the east look like? What color is East or West? The two artists use the unusual piece of clothing to talk to passers-by and schoolchildren at Mümmelmannsberg Stadtteilschule about the topic of East and West. In cooperation with art teacher Lino Gieseke.
The installation and the performance are a collaboration of the artists Vera Drebusch and Anne Reiter.
2022
Installation + Performance
2 Ganzkörperanzüge, Baumwolle div. Farben, genäht
1,5 m x 2 m
Vera Drebusch und Anne Reiter tragen während ihrer Performance selbstgenähte Jogging-Anzüge in verschiedenen Farben. Jede einzelne Farbe visualisiert dabei eine Antwort auf die Umfrage, wie sieht der Westen oder Osten aus? Welche Farbe hat der Osten oder der Westen? Die beiden Künstlerinnen nutzen das ungewöhnliche Kleidungsstück um mit Passant:innen und Schüler:innen ins Gespräch zu kommen über das Thema Ost und West. In Zusammenarbeit mit dem Kunstlehrer Lino Gieseke.
Die Installation und die Performance sind eine Kooperation der Künstler:innen Vera Drebusch und Anne Reiter.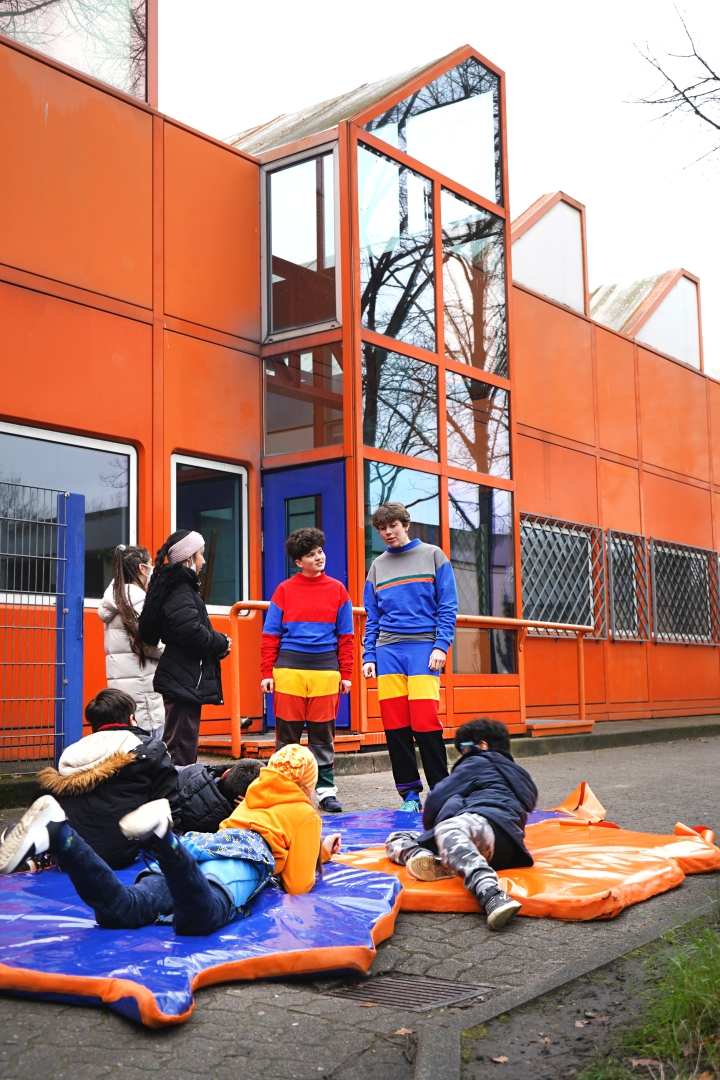 Kindly supported by | Mit freundlicher Unterstützung von